Twin Shaft Mixer Disperser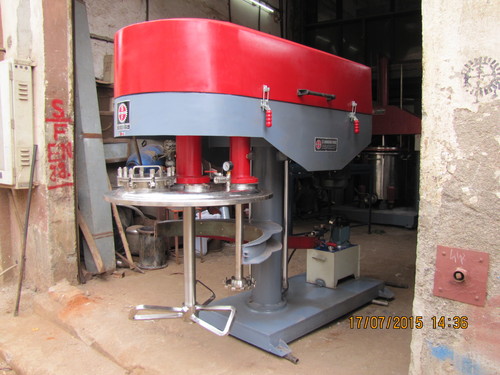 Twin Shaft Mixer Disperser
Product Description
Twin Shaft Mixer Disperser manufactured by S. F. Engineering Works is developed with the help of sound manufacturing unit and experienced personnel. An exclusive range of mixer dispenser is widely demanded in several industries for different applications such as plastic pastes, ointments, sealing compounds, paints and printing inks and construction materials. The machine offered by us in the market is well known for its features like sturdy construction, easy installation and long operational life.

Further Details:
1 number 15 / 7.5HP twin shaft mixer
Disperser with hydraulic lifting arrangement which can mix materials of specific gravity ranging from 1 to 1.3.Premix Capacity 500Lt
Working Principle:
The dispersers are designed for processing highly viscous material containing high percentage of solids and which are to be evenly dispersed with small quantities of liquid, solid additives and fillers.
The machine has a combination of two shafts rotating inside a vessel to achieve these results in short intervals
A low speed centrally located butterfly blade agitators mixes and moves the material around the vessel and into the path of high speed shaft
The shaft on entering the high speed zone the material is subjected to high shear turbulent forces
This force ensures that the entire mass in the vessel is evenly dispersed and homogenously mixed
By periodically varying the height and speed of the shafts and the level the quality of productivity can be increased to the desired levels
Application:

Mixing pastes, dispersing, emulsifying, breaking down agglomerates dissolving and homogenizing viscous materials, such as primers, creams photographic emulsions, adhesive, pigmented coating compounds and resin solutions, printing Inks, adhesives, etc.
Advantage:
Outstanding dispersing performance and uniform fineness
Vertical flow of the circulating materials effects rapid entry of fine powdery components
Drastically reduces mixing time
Minimum heating of the batch
Low energy consumption
Simple servicing and maintenance
The central control panel provided with indicators for all functions
Simplified operation and processing

Features:
Low-speed butterfly agitator and high-speed disperser disc
Frequency converter drive or hydrostatic drive
Drive power ranges from 7.5 KW to 90 KW
Batch sizes ranges from approx 10 to 2500 liters


Construction

Body: The frame is made from angles and house the body casting and guide pipe. The base frame is 12 mm thick made from MS plates and houses the entire power back. The top frame has the motor and the shaft assembly.
Agitator main shaft: Shaft is of 50 mm diameter made from SS – 304 MOC tapered to 40 mm diameter. It is supported by two ball bearings of size 6212.

Central Vessel Clamping: The new vessel-clamping device the disperser shaft always remains in the center, precise parallel guidance of the clamping jaws results from the purely vertical circular movement of the hydraulically operated gripper-type system.

Drive: The shaft is powered by 15 HP 1440 RPM. 3 phase cage induction and NON-FLP motor though V grooves pulley and belts. The shaft speed can be varied between 0 to 1440/3000 RPM through an A\C frequency drive unit. The low speed shaft is powered by a 7.5 HP 1440 RPM motor coupled with shaft mounted reduction gear box having final 75 RPM.

Speed Control: Continuous speed adjustment from 0 to 1 to the maximal stirring shaft speed is realized as standard feature by a maintenance free frequency inverter control. The maximum speed desired for a dispersing process is selected earlier by a rotary type plus/minus switch. The disperser is constantly operated with minimum power consumption without exceeding the pre-selected limit speed.

Optional:
Vacuum arrangement
Heating and cooling arrangement
Automatic lifting and lowering of the mixing tools during the mixing process is provided and also under vacuum programmable logic control system
Explosion proof construction
Mixing tubs can be heated and cooled

Manufacture and Supplying

One Stainless Steel Tank of 500 liters capacity (working 400 liters)

Shell: shell is 750mm diameter X 1000 mm height made from 5mm thick SS plates

Bottom: The bottom is tapered and made from 6mm thick SS plates

Jacket: The jacket is 6mm thick and made from MS plates and covers the working volume of the tank

Wheels: Four PP castor wheels