Ribbon Blender Powder Mixer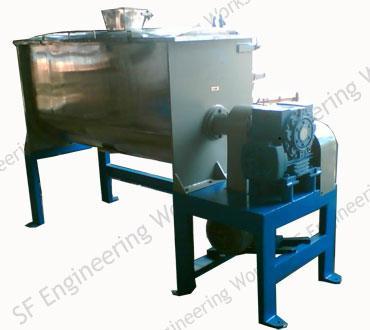 Ribbon Blender Powder Mixer
Product Description
Ribbon Blender Powder Mixer
Owing to our consistent performance in the chemical industry, we have been able to carve a niche in the market as foremost manufacturers & exporters of Ribbon Blender Powder Mixer. In compliance with predefined industry quality standards, we are manufacturing our wide range of powder mixer machines using high grade materials & components. Known for its impeccable performance and sturdy construction, our offered Ribbon Blender Powder Mixer finds wide usage in different industries such as pharmaceutical, mineral, food and chemical.
Further Details:

APPLICATION:
Suitable for homogenous mixing of dry powders of different bulk densities used in the Paint & Chemical Industries. It is a simple versatile mixer, which can also mix semi-wet material. Ribbons of various designs are available to handle different materials. The mixer consists of a cylindrical shell inside which rotates a double helix shaft fitted with spiral inner and outer ribbons. During rotation of the shaft, the ribbons lift, convey and intermix the material to get a homogenous mass in short intervals. Discharge is from the bottom by a quick opening valve.
CONSTRUCTION:
These types of mixer consist of a ~U~ shaped container fabricated in SS or M S material. The side plates of the blender are also made up of SS or M S material. It consists of a centre shaft of appropriate diameter and is either made of SS or M S material. The Blenders are highly efficient to ensure quick and thorough mixing of the material. The centre shaft is fitted with specially designed agitator blades in order to provide contra flow action. All the material in the mixer is constantly circulated from one end to the other. In larger mixer it is provided with inner and outer ribbons Sweeps maybe added to the outer ribbon to provide through clean out. The outer ribbons move ingredients towards the discharge while the inner ribbons constantly circulated material in opposite direction. The either ends of the vessel are provided with stuffing boxes on the shaft diameter. This stuffing box prevents leakage of material and also prevents material from entering into the bearings. The shaft is supported on heavy-duty pedestals. A hinged type top cover with loading hopper and locking bolts is provided with the mixer. A screw type manually operated quick opening valve or butterfly valve is provided at the central bottom position of the mixer. The mixer is supported on a heavy-duty frame structure fabricated from ISMC sections and is free from vibrations.
DRIVE: MOTOR & GEAR BOX.
The drive consists of a 3 Ph TEFC 415 V electric motor coupled to a horizontal worm reduction gear box complete with couplings, guards etc which run the ribbons at approx 35 RPM.
OPTIONAL:
Flame Proof Drive.
SS 316 Construction.
Jacket Arrangement
MODEL

GROSS VOLUME

WORKING VOLUME

TROUGH DIMENSIONS IN MM

THICKNESS

POWER

SFRB

LTRS

LTRS

LENGTH

BREADTH

DEPTH

H.P

SFRB 75

80

40

750

300

400

2mm

1.0

SFRB 150

150

75

850

400

600

2mm

3.0

SFRB 250

250

150

1000

450

600

2mm

3.0

SFRB 400

450

225

1275

550

710

2mm

5.0

SFRB 600

660

330

1500

600

800

3mm

7.5

SFRB 1000

1150

550

1800

750

950

3mm

10.0

SFRB 1500

1500

750

2000

800

1025

3mm

15.0

SFRB 2000

2000

1000

2250

900

1100

4mm

20.0

SFRB 2500

2750

1350

2500

1000

1250

4mm

25.0

SFRB 3000

3400

1700

2500

1100

1350

5mm

25.0

SFRB 4500

4750

2300

3000

1200

1450

5mm

30.0

SFRB 7000

7000

3500

3500

1400

1600

6mm

40.0

SFRB 9000

9000

4500

3750

1500

1775

6mm

50.0

SFRB 12500

13000

6500

5000

1600

1800

6mm

60.0

SFRB 18000

18000

9000

5000

2000

2300

8mm

75.0
The design of the machine is subject to change from time to time to keep pace with the state-of the art ensuring improvement in