Paint Manufacturing Machines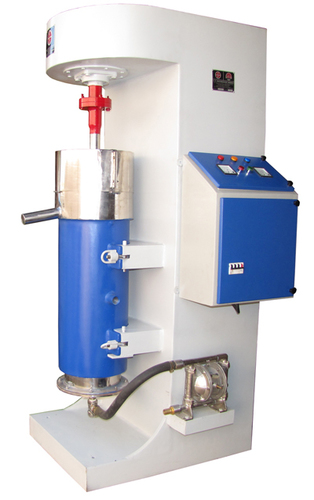 Paint Manufacturing Machines
Product Description
Paint Manufacturing Machines

We are the well known manufacturer, exporter and supplier of Paint Manufacturing Machines; it is ideal for producing paint and also increases the production. We use supreme quality of raw materials for the fabrication of this machine. It is offered at industrial leading rates with the customization required by our esteemed clients. By offering the best quality machines we have developed a strong clientele base in the paint industry all around the world.

The machine is tested on various quality parameters like durability, dimensional precision and corrosion resistance. We offer the paint plant on a turnkey basis at a very cost effective rate. The machine is manufactured using graded stainless steel and mild steel, Hastelloy and nickel; the machines are fitted with specially designed parts.

Features:

Excellent tensile strength
Flawless finish
Longer service life
Optimum performance
Easy installation and user friendly design
High operational fluency
High capacity
Stainless Steel material
Automation Grade: Automatic
Power Source: Electric
Design Type: Customized

Products used for Paint manufacturing

Horizontal Sand Mill

A pressurized chamber where a high level of size reduction and dispersing takes place, a shaft is fitted with wear resistant impeller discs that agitates the grinding media, can disperse the materials well and are designed properly. Reduction of particle size in sub-micron size in a single pass, it is also equipped with a cooling chamber.

Attritor

It produces fine and homogeneous dispersions quickly and that too under controlled conditions, it is generally used for the manufacture of inks, paints, ceramics, coatings, ferrites, metal oxides, and chocolates, chemical and allied products. In a vertical tank which is filled with grinding media, the material to be ground is charged into it. It is then agitated by a shaft with arms; the action produces an extremely fine material which is measured in microns. It is provided with a cooling jacket.

Bead Mill

It reduces particles into sub micron size, having a cylindrical vessel containing a motor-driven central shaft equipped with impellers. It comes with an enclosed vessel and while operating the vessel is filled with grinding media, rotation of agitator imparts energy forces tear, fracture or crush particulate. Being equipped with devices which retain beads within the milling chamber, it can be operated continuously and particles are dispersed evenly throughout the liquid.

Disperser

It is a single shaft mixer which breaks or dissolves solid particles in a liquid. It is designed to mix low viscosity products by using saw tooth blade which rotates at a high speed and imparts high shear forces to disperse the ingredients and break them apart. With proper sizing and blade selection, the flow is established and helps in repeated turnover of the batch giving a homogeneous product.

Putty Mixer

It reduces the efforts and saves time while mixing putty and other high viscosity materials. The bottom valve ensures proper mixing of putty for smooth application and also increases the strength of putty. Two shafts which run in opposite directions are mounted on bearing blocks and blades are fabricated are clamped on the shaft. The entire machine is manufactured from the finest quality of material and is fitted on a sturdy frame which minimizes vibrations.

Gyro Shaker

A Gyro Shaker or a paint shaker, paint mixer is used for blending paints, lacquers, plasters, inks, chemicals, sparkling compounds in a short time. It ensures effective and homogeneous mixing and uniform blending. It is durable, reliable and user friendly that guarantees smooth and trouble free operation.

Further Details:

We deliver turnkey projects for paint manufacturing plant with a team of highly skilled professionals and engineers and technical equipment which takes care of over 90% of the job. We ensure quality assurance plants and machines that are manufactured on proven technologies and are closely inspected for quality and workmanship. We offer the best manufacturing unit which stands on latest industry norms which guarantee 100% hassle free production.