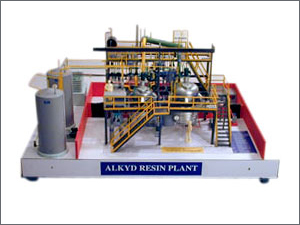 Multi Purpose Resin Plant
Product Code : 02
Product Description
Multi Purpose Resin Plant
We are remarked as one of the most prominent manufacturers and exporters of Multi Purpose Resin Plant. Under the astute guidance of our quality analysts, we are manufacturing our wide range of resin plant using high grade quality materials and components. These resin plants are well known in the market for their significant features such as less power consumption, sturdy structure and less power consumption. Our offered Multi Purpose Resin Plant finds wide usage in different industries like paint, paper and ply wood.
Further Details:
Pilot Plant
Multipurpose Resin Plants are the pilot plants of S F ENGINEERING WORKS The structural design, configuration and material of construction of our plants can be custom made to suit the distinct requirements of our clients. These plants can produce both solvent and acrylic based resins.
Capacities of our Multipurpose Resin Plant range from 10 to 100 Ltrs. / Batch. S F ENGINEERING WORKS can provide operation and installation support at the client's location, if required. Our design and technical engineers assist you about the proper functionality of our plant.
The precision configurations of our Multipurpose Resin Plant are specified below:
The reactors that are configured in our plant are manufactured as per ASME codes. These reactors are developed from superior quality stainless steel ranging from 1000 Ltrs. The capacity of these reactors is Upto 2,000 ltrs. Specially designed agitators with heating coils / jackets upto 350°C are configured in our reactors. Internal colding can also be taken care.
Heat Exchangers
Thermic fluid heating systems upto 3 Million KCAL / Hr with all ancillary equipment and safety requirements are offered by us. Further, we also provide steam generators, having capacity of 1000 Kgs / Hr.
Condenser
We provide you with distinct choices in the condenser types, to befit our customer's requirements. These can be configured in the plant to befit your specific requirement. The material of construction of these condensers can also vary in accordance to distinct need.
We offer following choices in our condensers:
Shell & Tube, U Bundle Type
Fixed or Floating Head Type
Double Pipe Coolers
M.O.C: Stainless Steel, Carbon Steel, Monel, Nickel Aluminum
Filtering
Specially designed filtering units for micron size filtering are incorporated on our plants. The resins and emulsions that are produced in S F ENGINEERING WORKS Multipurpose Resin Plant comply with the industrial standards. The waste material generated during the production process is efficiently filtered and separated with the help of these filtration units.