Grease Manufacturing Plant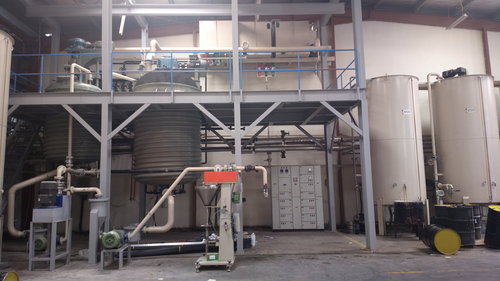 Grease Manufacturing Plant
Product Description
Grease Manufacturing Plants

We are the leading manufacturer of Grease Manufacturing Plant; we work closely in coordination with our customers. The plant manufactured by us is the outcome of many years of technical and scientific experience. This plant is created by using modern manufacturing equipment, careful supervision, scientifically developed formulations, fabrication and design experience; it can manufacture different types of greases.

A complete range of greases of proven quality is ensured with this plant which has high manufacturing standards, quality controls, accurate process controls, repeatable and reproducible conversion efficiency. This plant is a winner in the market due to its features such as performance in low and high temperature, easy installation and durability and also the greases manufactured from the plant has special characteristics of purity, uniformity and stability.

Features:

International standards and safety features
Reduces manpower requirement
Easy to install and high durability
Low and high temperature performance
What is Grease?

Grease is a thick oily substance, especially used as a lubricant, it is a semisolid lubricant. Grease generally consists of a soap emulsified with vegetable or mineral oil. Most of the greases are a combination of petroleum oils and metallic soaps. It is a lubricant of higher initial viscosity than oil, consisting originally of a calcium, sodium or lithium soap jelly emulsified with mineral oil. Greases are typically used in areas where a continuous supply of oil cannot be retained, such as gears or open bearings.

Types of Greases:

Calcium Base: It is used for simple bearings, chassis lubrication for normal temperature applications and general purpose machinery
Soda Base: It is used quite generally for ball and roller bearings, suitable for high temperature conditions
Aluminum Base: They have exceptional stringiness and adhesive properties
Lithium Base: These greases are selected for multipurpose industrial and automotive application
Barium Base: They have outstanding shear stability and have multipurpose applications
Complex Soap and Mixed Soap Base: Provides thickener system of unique properties/characteristics
Molybdenum Modified Greases: It is widely used for automotive lubrication
Soap Free, Silicone Base, PTFE are other types of greases

Factors to be considered when selecting greases are:

Operating temperatures, water resistance, oxidation stability etc the second factor is the grease's characteristics, including viscosity and consistency.

Further Details:

We have been working very closely with the customer s requirement and deliver tailored machines according to their needs. S. F. Engineering Works also offer trial on lab machines to get the manufacturing process right. The company also undertakes turnkey projects for grease plant, resin plant, soap plant, dry mix plant, paint and ink plant, dry mix mortar plant and process plant.