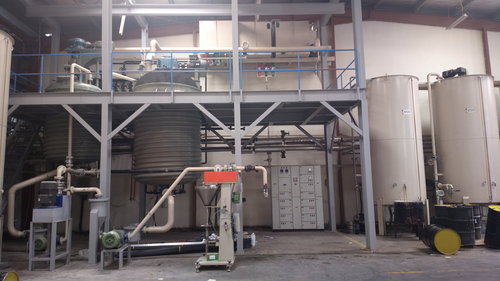 Grease Manufacturing Plant
Product Code : 05
Product Description
Grease Plant
Enriched with keen understanding and knowledge in the areas of manufacturing steel plants, we are noted as one of the foremost manufacturers & exporters of Grease Plant. Our company is working in close coordination with our customers so as to know their precise demands and specifications. These plants are used in the manufacturing process of different greases. Our clients are widely appreciating this Grease Plant for its salient features such as low & high temperature performance, easy installation and long operational life.
Further Details:

We have been working closely with our clients to tailor machines to their requirements. We also offer trial runs on lab machines to get the manufacturing process right the first time.

We also undertake turnkey Projects for Grease Plant, Soap Plant, Resin Plant, Dry Mix Plant, Drymix Mortar Plant, Paint & Ink Plant, Process Plant.

Types Of Greases
Lithium, Calcium, Soda, Aluminium, Complex and Mixed soap base Greases, Soap free Grease, PTFE, Silicone and Molybdenum modified Greases, Specialty and Synthetic Greases.
Basic Defination
The original Definition of ASTM of Grease was "½ solid or semi solid combination of petroleum products and a soap or mixtures of soaps with or without fillers, suitable for certain types of lubrication.
Subsequent technological advances have led to the use of synthetic lubricating fluids on the one hand and non-soap thickeners on the other hand.
Current - Modified Definition of Grease is "A solid or semi solid product of dispersion of thickening agent in liquid lubricant. Other ingredients imparting special properties may be included.
Most greases are in fact is a combination of petroleum oils and metallic soaps.
Grease is a lubricant of higher initial viscosity than oil, consisting originally of a calcium, sodium or lithium soap jelly emulsified with mineral oil.
Greases are typically used in areas where a continuous supply of oil cannot be retained, such as open bearings or gears.
Grease is a fine dispersion of an oil-insoluble thickening agent - usually soap in a fluid lubricant which is generally mineral lubricating oil. The soap is made up of fatty acid, tallow or vegetable oil saponified with alkali which can be hydrated lime, caustic soda, lithium hydroxide or aluminum hydroxide. The lubricating oil component is refined base oil-naphthenic, of medium viscosity index, or cylinder oil stock. Structurally grease is a water-in-oil emulsion. Its appearance is smooth, mostly translucent, soft or hard.
Properties essential for performance of grease are structural stability, lubricating quality, (which are provided by the selected lube oil base stock), where as properties such as water resistance, high temperature quality, resistance to break down through continuous use and ability of grease to stay in place are provided by the soap.
Additives e.g. Graphite, modified clay, asphalt, oxidation and corrosion inhibitors, extreme pressure additives molybdenum disulphide etc. are used to impart specific properties as required by end application.
Factors to be considered when selecting greases are the type of grease, which in turn depends on operating temperatures, water resistance, oxidation stability etc. The second factor, no less important, are the grease's characteristics, including viscosity and consistency.
Basic Types Of Grease
Metallic soaps + Lubricating Oils + Additives for imparting Special properties
NON SOAP THICKNER GREASES