Dry Mix Mortar Plant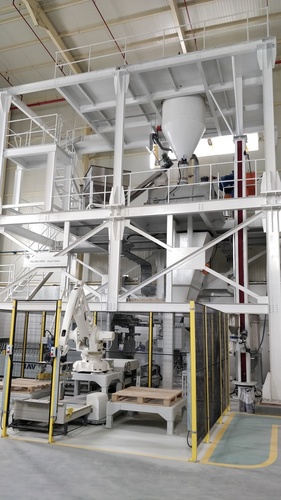 Dry Mix Mortar Plant
Product Description
Dry Mix Mortar Plant
Incorporated with modern features, we manufacture, supply and export a wide range of Dry Mix Mortar Plant. We have with us advanced technology, which enable us to manufacture wide range of mortar plants. Widely used in construction industry, our mortar plant is extensively used for mixing various construction materials such as sands, cement and chemical additives. Due to its major features such as easy installation, user-friendly functions and long operational life, our Dry Mix Mortar Plant is well recognized in the market.
Further Details:

What is Dry Mix Mortars

Dry Mix Mortars are construction materials mainly comprising of Cement, Sands and Chemical additives precisely weighed and mixed in a factory. This mix is termed as mortar and is packed in bags. Several types of MORTARS can be formulated in a dry mix plant.

Today where speed and time play an important part of any construction project DRY MIX MORTARS offer the perfect solution. Advantages are consistent quality, controlled inventory, savings in time and labour costs.
Complete Automation based on PLC systems
The entire operations of our plants can be precisely controlled by a centrally located PLC electronic panel. Right from raw material storage to final finished product can be carried out by a single operator. Each stage of production, i.e. administration of formulas, entry of orders etc., is monitored and displayed. We also offer semi automatic control stations in cases where labor factors are not a constraint. Tailor made systems are offered depending on level of automation and investment available.
Mixers
The type of mixers installed in a dry mix plant controls the output and quality of the finished product. The specialty additives like polymers, cellulose, fibers, air entraining agents etc. have to be uniformly blended along the entire batch to obtain consistency in quality. The two types of mixers we offer are shown below
The Plough Type
The plough type mixer creates a fluidized effect whereby the mass is subjected to three dimensional mixing. Choppers are installed to create the fluidizing effect as well as to breakdown any agglomerates present in the batch. These mixers have a short mixing time and are power intensive.
The Ribbon Type
A conventional and reliable mixer which employs the use of helical ribbons to ensure multidirectional mixing of the mass. The mixing time is longer as compared to the plough mixer but the quality of mixing is as good. These mixers consume less power.
Paddle Type
A quick efficient mixer where mixing time required is less then 3mins/batch. Recommended for mixing of different solids having fine particle size and varying bulk densitites.
Conveying Elevators
S F ENGINEERINGWORKS offer various types of conveying elevator depending on the plant layout and site conditions such as screw conveyors, bucket conveying elevators, pneumatic conveyors and dense phase conveyors. All conveying systems are integrated and linked to the main plant electronically.
Bucket Conveying Elevator
Pneumatic Conveying
Belt Conveying
Screw Conveying
Packing Machines
We offer/recommend mortar packing machines and mortar packaging plant manufactured by reputed firms such as HAVER, BEUMER and CEL. Also recommended are locally manufactured machines for each case and we take complete responsibility for proper functioning of the equipment.
Additive Dosing
Bulk Bag Filler
Bag Dumping
Electronic Bagging Machine 2 Spout
Electronic Rot Packers 8 Spouts
Big Bag Filling Station
Bag Emptying Automatic Machine
Automatic Palletizing
Silos Storage Plant
Silos for storage of sand, cement, minerals, fillers and additives are offered by us in cylindrical or rectangular designs. Silos with capacities ranging from 5 - 200 mt. are provided with filters, level indicators, aerators, pressure valves, dust collectors and vibrators as required. We also provide drawings for silos so as to be manufactured locally.
Sand Preparation Plant
Sand preparation plant offered by us comprise of the complete process right from sand washing plant, screening, conveying and drying. These plants are recommended in cases where the requirement of sand exceeds 100mt/day and where sourcing of graded, washed and dry sand is not available. Capacities offered range from 5 to 25mt/hr.
Sand Vibrating Screen
Sand Washer
Sand Dryer
Automation And Batching System

Intelligent Batching Systems
S F ENGINEERING WORKS offers complete solutions for automation using PC/SCAD and PLC working on windows platform. The sophisticated automation and instrumentation guarantees a high level of reliability along with a huge scope for value added enhancements and future add ons.
Advantages Of Using SFEW Intelligent Batching Systems
Intelligent
Automatic computation and correction of batches with auto in-flight technology resulting in faster batch cycles.
Trial and Error method eliminated from batch to batch.
Reduces wear and tear on valves and screws.
Batch Accuracy resulting in minimal wastage
Quick switch over to manual mode.
Increased production as weighing time is reduced.
Programmed recipe management
Instant alert due to malfunction
Online tutor for online troubleshooting
Bin/Silo swapping facility for continuous production
Auto in-flight ensures consistent quality
Programmable material loading by time/weight method
Tail discharge allows splitting discharge to mixer in two steps.
Batching sequence allows deciding and defining the preferred sequence for dosing.
Watt meter interface enables to judge the proper mixing before discharge.
Multilevel access coded and independent passwords.
User and date of mix design for reference.
Audit trial logs all user access information.
Hold mode start up incase of power failure.
Production and inventory data management
Information retrieving facility.
Reports can be printed in pdf; xls etc can also be exported to SAP, ERP, etc.
Windows based for easy navigation.
Inbuilt online audio visual tutor with trouble shooting guide
Mimic on control panel
Desk type cabinet with tabletop PC and Printer.