Dissolver Motorized Lifting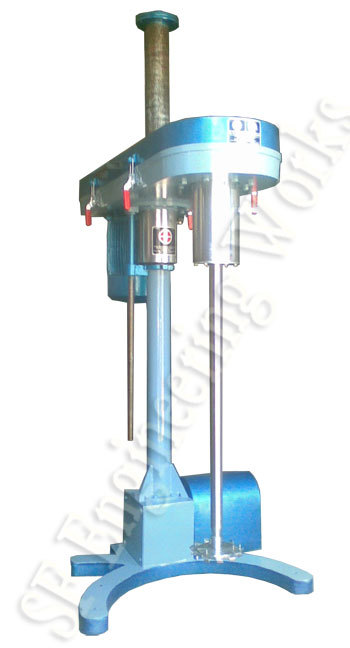 Dissolver Motorized Lifting
Product Description
S. F. Engineering Works is the most profound and prominent manufacturer, exporter and supplier of Dissolver Motorized Lifting. We provide the wide range of motorized lifting and are well accredited in the market for its distinctive features like robust and sturdy construction, easy installation and longer working life. The machine is highly in demand in the market in several industries which are available in different technical specifications to meet our clients expectations. The Dissolver Motorized Lifting is available at a very cost effective price.

Further Details, Manufacturing and Supply:

HP: A high speed disperser is provided with 2 HP mechanically motorized lifting arrangement for mixing materials of specific gravity ranging from 1 to 1.3 Premix Capacity liters.

Body: The frame is made from angles and house the body casting and guide pipe. The base is 12 mm thick made from MS plates. The top frame has motor and shaft assembly.

Agitator: The shaft is 38 mm in diameter made of SS. MOC and is tapered to 33 mm diameter. The shaft is supported by two ball bearings. The bearings is housed in a MS. Housing is bolted to the top frame. The shaft has 6.5 (150 mm) Cowles type impeller blade for dispersion.

Drive: The shaft is powered by a 5 HP 1440 RPM, 3 phase squirrel cage induction and NON-FLP motor through V groove pulley and belts. The shaft speed is fixed 1440 RPM motor for screw type mechanical lifting arrangement of the stirrer.

Vessel: Vessel is fabricated from stainless steel SS 304 plates and is provided with three castor wheels. Bottom, the discharge ball valve and towing handles is made from SS 304.

Control Panel (Non Flame Proof/Flame Proof)

The control panel is duly powder coated and is provided with the followings functions:

Main motor ON/OFF
Voltmeter
Ammeters
Inverter Trip
Emergency Stop
Indicating lamp
Speed Control Switch
MCB
RPM Indicator


Finish: All parts are stainless steel and are duly polished to a bright or matt finish. All MS parts are painted with two coats of metal primer and polyurethane paint. Machine is designed for the solvent based paints having viscosity of poise and sp gr. of 1.2. the water based paints having viscosity of 15 poise and sp gr. of 1.3.