Chemical Dissolver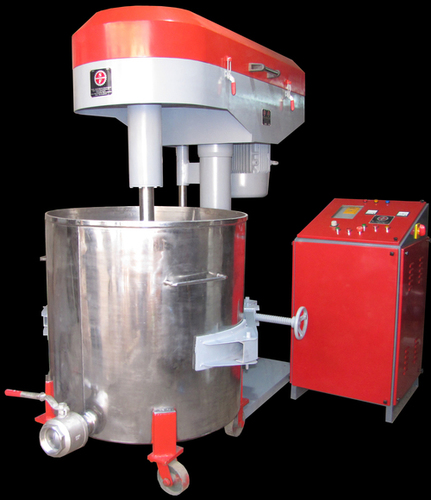 Chemical Dissolver
Product Description
At S. F. Engineering Works we have a team of skilled professionals and highly qualified engineers, we are considered as one of the most eminent manufacturer and supplier of Chemical Dissolver. These machines are available in different technical specifications to suit the diverse needs of our valued customers. The machines offered by us are available at a very competitive price range in the market. It is widely in demand in chemical industry for its salient features like easy installation, rugged design and less power consumption. The dissolver is available with A C drive 10HP to 75 HP.

Construction

Drive Head: A steel fabricated enclosure is inside which is installed with the drive assembly consisting of a set of balanced pulleys, electric motor, V belts and motor tensioning device. The drive head is hinged type construction which can be opened and locked for maintenance.

Main Shaft: A stainless steel SS 304 shaft which is duly machined and balanced is provided with a hard chrome plate, Cowles disperser blade which is specially designed for efficient and quick dispersion. Disperser blades made from special steel which can withstand high wear and tear. The shaft is installed in a bearing housing and is provided with taper roller bearings. RPM variable from 0 to 1500, the lubrication points are provided on the housing.

Speed Control: AC frequency inverter is installed in a panel controls with the RPM of the disperser shaft range from 0-1500. The inverter is provided with settings for monitoring torque, amperage, voltage, power factor and is PC compatible.

Electric Motor: 3 phases, 415 V, 50 HZ TEFC motor, drives a set of pulleys and V belts. The electric motor is provided with a belt tensioning device.

Lifting/Lowering: The entire drive head and shaft are mounted on a hydraulic column which makes it easier to lift and lower it to clear the height of the vessel. The hydraulic column comes complete with hydraulic cylinder, power pack unit, piston rod, valves 1HP electric motor and interconnecting pipelines and hoses.

Vessel locking: A vessel locking device consists of centering device, locking arms, and manually operated screw is provided.

Vessel Optional: The vessel is fabricated from SS 304 plates and is provided with 3 numbers castor wheels, SS 304 bottom discharge ball valve and towing handles.

Control Panel: A control panel which is duly powder coated is provided with the followings functions, Ammeters, voltmeter, main motor ON/OFF, emergency stop, indicating lamps, inverter trip, speed control switch, RPM indicator and MCB.

Finish: All Stainless steel parts are duly polished to a bright or matt finish. All the MS parts are painted with two coats of metal primer and polyurethane paint.