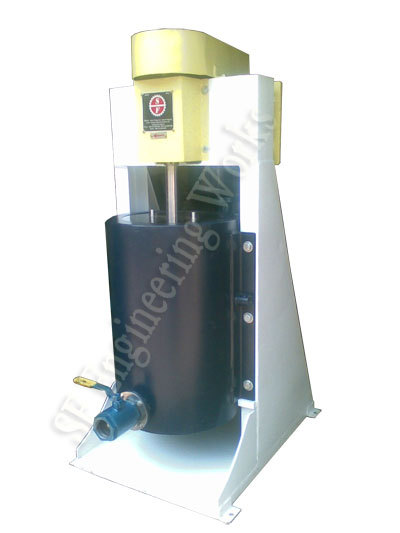 Bead Mill
Product Code : 50 LTRS
Product Description
Bead Mill
With an experience of more than four decades, we are catering the varied demand of processing industry by manufacturing a huge array of Bead Mill. In compliance with industry standards, we are manufacturing wide range of mill using high quality materials & components. These mills are widely used in several industries which include herbicides, cosmetics, pesticides, pharmaceutical and leather finishes. Known for its salient features such as easy installation, user-friendly functions and long operational life, our Bead Mill range is well credited throughout the market.
Further Details:

S.F. BEAD MILL APPLICATION: Solvent And Waterborne Dispersions, Industrial And Architectural Coatings, Automotive Refinishes, Clear Coats, Inks - Liquid, UV, Screen, Paste, Agricultural - Fungicides, Flame Retardants.
S.F. BEAD MILL FEATURES & BENEFITS: Finer And Faster Grinding For Inks And Coatings, Single Machine Processing - Premixing, Pre-Grinding, And Milling All In One Machine, Enhanced Quality, Higher Productivity, Simple Operation Small Batch Production, Minimal Solvent Emissions.
S.F. BEAD MILL (BATCH TYPE SAND MILL) Having The Grinding Shell Capacity Of --- Liters. This Machine Is Suitable For Grinding Low Medium High Viscosity Material Between 100 CPS And 4000CPS Thixotropics And Product With Highly Pigmented System. The Cabinet Is Totally Enclosed In M.S. Frame Giving Streamline Appearance And Comprises Of The Following.
· Sturdy Mild Steel Heavy Duty Fabricated Body For The Mill.
· Stainless Steel 304 Grinding Cylinder With Mild Steel Water Cooling Jacket, Provided With Inlet And Outlet Nozzle.
· Stainless Steel 304 Grinding Disc.
· Main Drive Motor Will Be----- HP TEFC 3ph, 440 Volts, 1440 RPM Motor.
· The Above Drive Is Provided With Imported Self Aligned Bearings To Withstand High Speed And Initial Torque Of The Mill.
· Glass Beads For Initial Charge.
· Hence Complete With Material As Per Our Standard Design.
MODEL

SHELL VOLUME

IN LTRS

WORKING VOLUME IN LTRS

MOTOR HP

SFBM - 1

1

0.5

0.5

SFBM - 2

2

1

1

SFBM - 5

5

2.5

2

SFBM -10

10

5

3

SFBM - 20

20

10

5

SFBM - 50

50

25

7.5

SFBM -100

100

50

10

SFBM - 200

200

100

15

SFBM- 500

500

250

40