Attritor Mill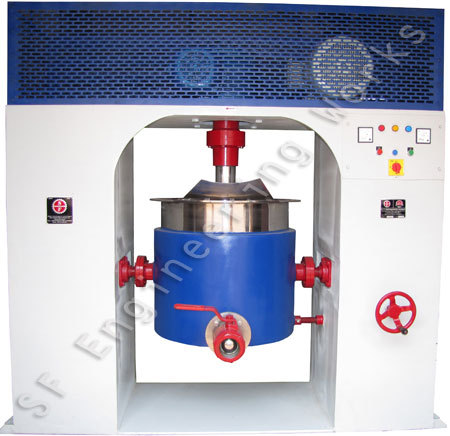 Attritor Mill
Product Description
Attritor Mill is also called Stirred Ball Mill, it is a unique machine with high performance for dry and wet material grinding and blending with the use of modern techniques. It is a fast, powerful and efficient method; the advantage of this mill is that it ensures that grinding media is in action all the time which results in much faster action. A casting slip can be performed in one tenth of the milling time required in a conventional Ball Mill.

With the consistent performance in the steel plant manufacturing, S. F. Engineering Works has carved a niche in the market and is known as a leading manufacturer and exporter of Attritor Mill. This machine is widely used for blending, grinding, milling of all viscous liquids. The machine is highly recognized for its distinctive features. It is available in the market at a very competitive price and customization is possible as per our patron requirement.

Features:

Robust construction
User friendly functions and less power consumption

Operating Principle:

The machine operates on the principle of an Agitator Bead Mill
Agitator arranged vertically is equipped with agitator pegs
Ideal flow condition is reached through the combination of optimally arranged agitator pegs and the hemispherical grinding chamber floor
Circulation grinding ensures exact reproducibility and high product homogeneity

Working of Attritor

Working of Attritor is very simple and effective; the material which has to be ground is placed in a tank with grinding media. Stainless steel, carbon steel, chrome steel, tungsten carbide and ceramic balls are the commonly used grinding media. It is then agitated by a shaft with arms rotating at high speed, this causes media to exert shearing and impact forces on the material resulting in extremely fine material measured in microns and is distributed on a very narrow curve. The laboratory Attritor works ten times faster than the conventional ball, pebble or jar mill. It is compact and vertical which requires minimal space. Adding any ingredient or taking samples can be done at any time.

Construction
Vessel is made up of Stainless Steel SS 304 construction with a mild steel jacket for heating and cooling is provided with an inlet, outlet and drain fittings
Material can withstand the heavy loads and is provided with a top cover in two halves which can be locked by eye bolts on the main vessel
Specially designed ball valve with strainer is provided at the bottom of the vessel which ensures quick discharge of the material
Vessel is mounted on steel shaft and housed on the frame structure
Entire vessel can be tilted by a mechanical device to facilitate cleaning operations
Due to the dish bottom chamber, it is easy to clean and residue-free discharge
By the means of C.I/M.S rigid flange type coupling, the main shaft is connected to the output end of the gear box assembly
Shaft is fit with specially designed adjustable attrition arms which rotates at 120 RPM
Unit is painted with two coats of metal primer and two coats of synthetic enamel paint
Electrical are three phases, 50 cycles and 400 V
Electrical panel consisting of ammeter, voltmeter and switches
Drive unit is enclosed in steel cabinets